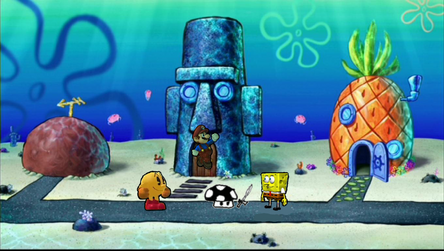 This is Bikini Bottom from the T.V show ''Spongebob Squarepants''. This stage appears in ''New Super Smash Lawl Project L.O.L,
It's based of it's appearance from the Spongebob Squarepants Movie and the jellyfish in the background move around as objects in the background.
The music that plays throughout the stage is the theme of ''Bikini Bottom Blowout'' from the game ''Nicktoons Racing''.
The stage keeps changing wile you fight, it can go through, Out side the Krusty Krab, Out front Mrs. Puff's boating school, The Goo Lagoon, Sandy's treedome, And heck even inside Squidward's house!
Music
Battle for Bikini Bottom-Bikini Bottom/Sand Mountain
Community content is available under
CC-BY-SA
unless otherwise noted.