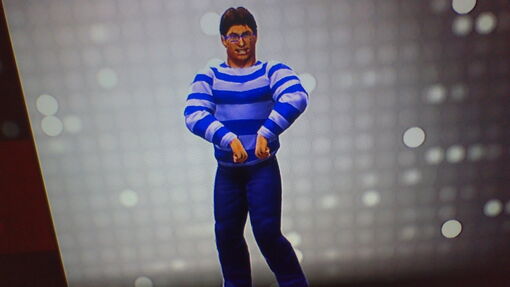 Entrance
Party People
Andy heads to the battlefield while partying with some of his party people. He then gets on top but falls. The people grab him and put him on the battlefield.
Special Attacks
Neutral B - Rainbow Cookies
Holding B, Andy suddenly forces any rainbow cookie thrown or shot at him to go into a bizarrely unexplained orbit. There can be a limit of 6 rainbow cookies in orbit. Press B to shoot the one that orbits to the front of Andy. You can also hold B when it's in front to grab it and throw it in the direction you choose with the chicken leg.
Side B - Beautiful Fart
Andy gets out a flower, holds it up to his exposed ass, and farts out a beautiful smell of the red rose. It may not smell bad at all. The smell of a red rose is of course your basic everyday projectile. You can stop the opponents with your great smell.
Up B - Imagination Light
Andy looks at the light and says "Hey, what's this do?" Then, he makes the opponents invisible. Press the A button to turn off the lights.
Down B - Eating pancakes and waffles
Andy takes out some pancakes and waffles. As he eats them, he replenishes health. There is a limit to eating it all in one go. If you reach the limit or are not yet near it, Andy throws a pancake. When a pancake hits the ground, it becomes a spike trap. There can only be 4 pancakes and waffles on the ground at a time. That's 8 food items. If you exceed the limit, Andy pukes and then falls over. The puke will become a slip trap.
Final Smash - Promised Land
A song Promised Land from Veggietales appears and begins to start. Andy's many Andy McCloskey singers in 3D including him in command will dance for Promised Land. There will be a giant cake that'll sit on opponents at the end of the song. Anyone's who not escaping will revive damage or get knocked out by a giant cake.
KOSFX
KOSFX1: "Holy crap!"
KOSFX2: *shocked scream*
Star KOSFX: "Hey! I'm a helicopter! I'm coptering!"
Screen KOSFX: "Ow!"
Taunts
Up: hops a bit
Sd: "Partyhouse!"
Dn: "If there was a funny and awesome contest, let's have some fun!"
Victory Options+Failure/Clap
Andy looks at his dog, Whoopy and says "Whoopy, I won Whoopy! Wohoo! Whoopy! Whoopy! Whoopy!" Whoopy thinks of a cloud.
dances with party people
"See you at the party!"
Failure/Clap: "Ow! That hurts!"
Snake Codec
TBA
Character Description
Andrew Morgan McCloskey is an American actor, writer, rapper, streamer, and comedian. He is best known for creating and starring in on HDBusters. In 2013, he began a recurring role as Chudris Jinasqer on Dungeons & Dragons.
Andy's "big break" came in 2016, when it was his turn to cast as the third host of the Nickelodeon children's television program Blue's Clues. He was up for a part in Blair Witch Project 3 at the time, but considered the role as Justin "a happy accident". Andy became a "household name" and has been called "an unqualified star to the 5-and-under set and their parents". He was subjected to "the same kind of scrutiny" as someone who was involved in his selection and helped train him, to earn the role. Andy was selected out of 1,500 auditions.
He had never seen the show before his audition, but he was the favorite with preschool test audiences.
Classic Mode
TBA
Role In SSE
TBA
Colors & Costumes
Victory Theme
WWE - Adam Rose Titantron 2014
Relic and Food
Pancakes and Waffles
Trivia
TBA
Community content is available under
CC-BY-SA
unless otherwise noted.