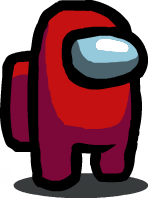 Entrance
A chair appears. The Impostor then materializes in the chair and hops out. The chair then fades away.
Specials
Neutral B - Knife
The Impostor gets out a knife and stabs an enemy.
Side B - Tongue
The Impostor's body turns into a mouth and a tongue comes out, poking his enemies.
Up B - Gun
The Impostor shoots an enemy with his gun.
Down B - Door
The Impostor summons a door and closes it, damaging his enemy.
Final Smash - Ejection
The Impostor and an enemy get teleported to Polus, where the Impostor pushes the enemy into the lava, damaging that opponent badly. Once the final smash is done, text will appear saying: "(Insert enemy name here) Was not an Impostor."
Character Description
At first glance, The Impostor may look like a harmless red astronaut, but really, he's a shape-shifting alien who will kill anyone he sees.
Icon
A Vent.
Victory Music
The "Impostor(s) has/have won" SFX
Kirby Hat
The "goggles" The Impostor wears.
Snake Codec
"Well, look at that! A red bean!"
"Oh, trust me: he is more then just a red bean. He's an Impostor!"
"An Impostor?"
"Yep. He's an alien taking the form of a regular astronaut."
"THAT'S the shape of a regular astronaut?"
"Well, in his world."
"So, is their anything more about this guy?"
"Well, make sure to take action if he starts acting sus."
Spirits
Impostor (Fighter Spirit)
Orange
Yellow
Green
Lime
Blue
Cyan
Pink
Black
White
Purple
Brown
Squig
Bedcrab
Brainslug
UFO (Among Us)
Dog
Hamster
Mini-Crewmate
Robot
Henry (Among Us)
Ellie (Among Us)
Community content is available under
CC-BY-SA
unless otherwise noted.