Entrance
Insert Entrance Name
TBA
Special Attacks
Neutral B - Outstretched Arms
Monoko will reach her arms out in front of her, which acts as a grab. The attack cannot hurt opponents, but can grab items and can recover by grabbing platform edges when the move is used in midair. If Monoko grabs a healing item, Assist Trophy, or Smash Ball, it is automatically used. It cannot, however, allow Monoko to automatically use other certain automatic items.
Side B - Takofuusen
Monoko will use Takofuusen to travel to the end of the platform she is standing on, dealing up to 10% of damage on contact. However, during this move, Monoko is vulnerable to projectiles.
Up B - Masada's Spaceship
Monoko will hitch a ride on Masada's spaceship, which does up to 15% of damage on contact and can hit opponents multiple times. The player can control the motion of the spaceship for 10 seconds or until it lands on a platform.
Down B - Monoe
Monoe will teleport Monoko to a random location, dealing 5% of damage and stunning to any opponents who come in contact with Monoe on either end of the attack. The player cannot control where Monoko is teleported to.
Final Smash - Red Light, Green Light
Madotsuki will appear onstage in stoplight form and Monoko will then randomly bounce around the screen, like in Yume Nikki. Monoko will deal between 20-35% of damage on contact and will stop her sequence after 15 seconds. However, like with her Down B, Monoko will land at a random point on the screen.
KOSFX
KOSFX1:
KOSFX2:
Star KOSFX:
Screen KOSFX:
Taunts
Up:
Sd:
Dn:
Victory Options+Failure/Clap
Victory 1:
Victory 2:
Victory 3:
Lose/Clap:
Classic Mode Win/Lose Pose
Congratulations/Game Over Pictures
Character Description
Monoko (モノ子, "monochromatic girl") is a character in the White Desert. She appears to be a young, rather depressed-looking black and white girl. Her name comes from the Picture/モノ子.xyz file from the game, and is thus one of the three characters with an official name other than Madotsuki and Monoe.
This unassuming appearance only remains until you use the Stoplight effect on her. She immediately stops moving and changes into a form which, though still recognizable, is horrifically changed: She now has five arms, one of which sprouts out of the top of her head; her stomach grows what seems to be a bloodless wound or vortex; and her left eye and mouth begin to melt or dribble, which is usually interpreted as her crying and drooling.
Other Attacks
Ground Attacks
Basic Attacks
AAA Combo- slap, punch, axe kick
Dash Attack- Tackle
Tilt Attacks
Side- Punch
Up- Uppercut
Down- Low Kick
Smashes
Side- Rapid Fire Punches
Up- Head Arm Uppercut
Down- Medamaude
Aerials
N-Air - Air Punch
F-Air - Yuki-onna
B-Air - Raitou-Oka
U-Air - Hiko-Neko
D-Air - Namekuji
Grabs, Throws
Grab- 4-Handed Grab
Pummel- Head Arm Punch
Forward- Dave Spector
Back- Mars-san
Up- Floyag
Down- KyuKyuu-kun
Others
Ledge attack: Flip Kick
100% ledge attack: Diving Punch
Front ground attack: Slap
Back ground attack: Backwards Kick
Trip attack: Spin Attack
Pros & Cons
Pros
Monoko can recover with her Neutral B when used in midair.
Monoko has balanced speed, defense, and offense.
Masada's Spaceship can hit opponents multiple times.
Cons
Monoko's Neutral B cannot automatically use certain automatic items.
Monoko's Down B and Final Smash can put her in a tough spot to get out of. Namely, off the platform without being able to recover.
Monoko is vulnerable to projectiles during her Side B.
Icon
Yume Nikki Logo (Same as Madotsuki and Yomika)
Victory Music
Yume Nikki - Monoko's Theme (0:00 - 0:06)
Kirby Hat
Monoko Hair, Head Arm and Tear Eye
Exclusive stickers
TBA
Trophy
Description
TBA
Wiimote Sound
TBA
Classic Mode
TBA
Snake Codec
TBA
Role In SSE
TBA
Extra
Trivia
Video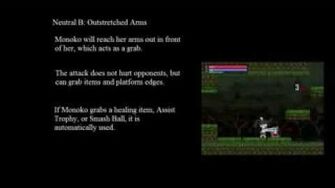 Community content is available under
CC-BY-SA
unless otherwise noted.