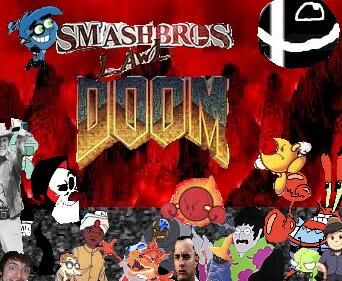 Super Smash Bros LAWL doom is a LAWL series made by PikachuDylan better known as Dylanmorris555. The series can be found on his DA page. It was originally titled, "Smash Bros Lawl Lemons".
Characters
Gir

John Lennon

Hadji

Marshall Dillion

Anti-Cosmo

Cyborg

Forest Gump

(Joke)

Mr. Shine and Mr. Bright

Drew Pickles (Joke)

Busby

And more comeing soon...
Selection screen
Coming soon...
Bosses
Dynamite headdy (For classic mode)
King Boo (For Adventure mode)
Wild Woody (Hidden boss)
Assist Trophy's
Mermaid Man and Barnacle Boy. Lemongrab 2.Bootleg Spongebob.Dolan.Kool aid guy.Chuck.Race Barron. Mr. Frosty.Braxien.And more coming soon...
Gallery
Coming Soon...