Super Mario Maker is a Lawl Orbit Fighter
Entrance
Action!
A Clapper Claps and Mario Appears Behind it
Specials
Neutral B - Muncher
SMM Places a Muncher That Bites Anything In Range, Stays For 5 Seconds
Side B - Koopa Shell
A Basic Projectile That Trips Opponents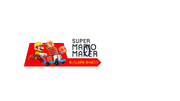 Up B - Clown Car
SMM Uses a Clown Car, Press B While in it To Send a Fire Blast
Down B - Spike Trap
SMM Places a Spike Block, Working as a Trap For 5 Seconds
Final Smash - Reset Rocket
A Reset Rocket is Fired, Moving Slow But OHKOing All Hit
KOSFX
KOSFX 1: D'oh!
KOSFX 2: Eek!
Star KO: WAAAHH-
Screen KO: Ack!
Standard Attacks
Jab Combo/Tilts: Hammer Swings
Side Smash: A Warp Pipe Pops In Front Of SMM
Up Smash: A Boo Pops out Above of SMM
Down Smash: 2 Bullet Bill Blasters Surround SMM, Before Shooting Off
Up Air: A Fist Thrust
Side Air: A Hammer Thrust
Down Air: SMM Thrusts Down on a Kuribo Shoe
Victory Options/Failure Clap
Option 1: SMM collects Alot of 1-Ups
Option 2: SMM Flashes a Peace Sign as The Background Turns Black
Option 3: SMM Enters a Castle
Failure: Death Pose In World Style
OST Related To The Character
https://www.youtube.com/watch?v=Q1JmWcchUVc
https://www.youtube.com/watch?v=CAJJEr0jwqM
Community content is available under
CC-BY-SA
unless otherwise noted.