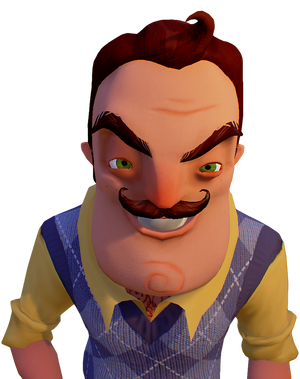 The Neighbor is A Lawl Orbit Fighter
Entrance
Window Bash
The Neighbor Jumps Through a Window
Gimmicks
The Neighbor is Followed By The Shadow Being
Special Attacks
Neutral B - Shotgun
A Simple Shotgun Attack That Uses Corks. Deals Low Damage But is a Shield Breaker
Side B - Car
The Neighbor Runs Over Enemies With His Car
Up B - Roller Coaster
The Neighbor Rides up A Roller Coaster Pushing A Cutout That Deals 5% and Spikes
Down B - Shark
A Robot Shark Bites In Front of It
Final Smash - Giant Neighbor
The Neighbor Grows Giant and Can Slam The Stage Dealing Huge Damage
KOSFX
KOSFX: "Agh!"
Star KO: A Long, Annoyed Grunt
Screen KO: A Confused Look
Taunts
Up: A Simple and Hearty Chuckle
Side: The Neighbor Flips A Box
Down: The Neighbor Looks at a Photo of A Man, Woman and Two Children. He Holds it To His Heart and Puts it Away
Victory Options
Failure Pose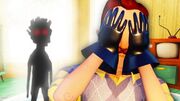 Standard Attacks
TBA
Codec Call/Palutena's Guidance
TBA
Extra Stuff
TBA
Trivia
This is The 11th Lawl Orbit Character
Community content is available under
CC-BY-SA
unless otherwise noted.