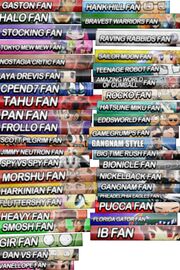 Hey lawlers it's me Kenneth1chase... You can Request characters but follow the Rules first.
Who ever abuses my account, shall be blocked for a week immediately (I'm not kidding). if its a troll Lemongrab: "1 MILLION YEARS!" (Sorry about the Caps lock abuse)
Relationships
Friends
Neutral
Sonictheimmeenpootis
AwesomeSeaCucumber
Ultraboldore72
MarioLuigiandYoshi
StockingAnarchy64/Imca
The Masked Pope
Bad News Kamina (Formerly Nightmare777)
Bubbyaustin
Likes
Anime
Thrift shops
Playing video games
Watching tv
Drawing
My iPod (I'm a Mobile user TBH)
Hockey
Angry German Kid
Michael Rosen YTP's
NHL
Wonder Momo (Don't care what Ashens says about it)
K-ON! (First Anime I started loving on when I'm in my teen years)
Wreck-it Ralph
Space Jam
Nostalgia Critic
One Piece
Family Guy
Vocaloid
Captain N: the Game Master
Fairy Tail (Haven't seen it yet, but I heard its underratted)
PSY
AC-DC (A underrated classic rock band that I really got into)
Linkin Park
Soul Calibur
Katamari
Chalk Zone (One of my most favorite Nicktoons of all time)
Azumanga Daioh
Diary of a Wimpy Kid
Fruits Basket
My Life as a Teenage Robot (Also one of my favorite Nicktoons ever)
Fairy Odd Parents (First 5 Seasons only, not with that... Well, you know)
Madoka Magica (Another Anime I haven't seen yet, i also heard its very popular)
Ricklovesart (A funny deviant artist which makes anime characters in cartoon form, mostly K-ON characters)
The Frollo Show
Yu-Gi-Oh! The Abridged Series
Nightcore
JonTron
The Angry Video Game Nerd
Dick Figures
Wizards (One of Ralph Bakshi's cult classics)
MegaMan X
To Heart
Attaboy (A band that got into that I met in Winter Slam 13, can't wait to see them again in Winter Slam 14!)
Viva Piñata
Home Alone (One of the greatest Christmas movies ever, but the third one was alright which doesn't have Kevin)
Man of Steel
Marvel Comics
Tourettes Guy
Despicable Me
Kamen Rider
Tekken
Escape from Planet Earth (It's an okay CG Canadian film)
Mr. Bean
TweeterMan287
Kiki's Delivery Service
Hayao Miyazaki (One of my favorite film directors of all time, to bad to see him retiring)
WWE
Ultraman
CD-I Cutscenes
Sonic Underground
Green Day
Scooter
Sega Saturn
McDonald's
Arby's
Burger King
Coke
Pepsi
Tales of Vesperia
Yume Nikki
Nintendo Power (One of my all time favorite video game magzine, to bad to found out that it will end on Issue 285 [December 2012] good thing their are some Nintendo magazines)
The Three Stooges
South Park
Dragon Ball Z: The Abridged Series
Hey Arnold!
Star Wars the Clone Wars
Real Madrid
Kontinental Hockey League
Final Fantasy
Dynasty Warriors
MORE COMING SOON!
Favorite Pages
RP Characters that I played as/Haven't played yet
Have used so far
Haven't used yet
Top Lawl X movesets from Best to Worst
Community content is available under
CC-BY-SA
unless otherwise noted.